---


The Dunzinger Family



Since my search for the ancestors of my great-grandmother, Elizabeth Dunzinger has begun bearing fruit, I decided I'd better start a separate page for it. I'll try to keep this updated with all the latest news on the Dunzinger front.

When I started my family history research years ago, all that we knew about my great-grandmother was that her name was Elizabeth Dunzinger and she was born in either 1854 or 1856 in New York. Even that wasn't certain. It was said that she was brought to Burlington to live with family by her grandparents after her parents died when she was two years old. She was found in the 1870 US Federal Census living with the Charles Wagner family in his boarding house. We assumed that the Charles Wagner family was the family she was brought to live with. She married Alois Panther in 1872 and they lived in the Sperry/Dodgeville area in Des Moines County, Iowa, not far from Burlington. And that's where it sat. For decades. I kept looking everywhere I could possibly find and found nothing.

When I went to southeast Iowa for a family reunion, I think in 2008, a second cousin brought along her family history photo album/scrapbook. In it was a newspaper article I had never seen before. On it was written "These peope were relatives of Grandma Panther", meaning Elizabeth Dunzinger Panther. The article was about the Ziegelmueller, Wagner and Guenther families from Wemding, Bavaria.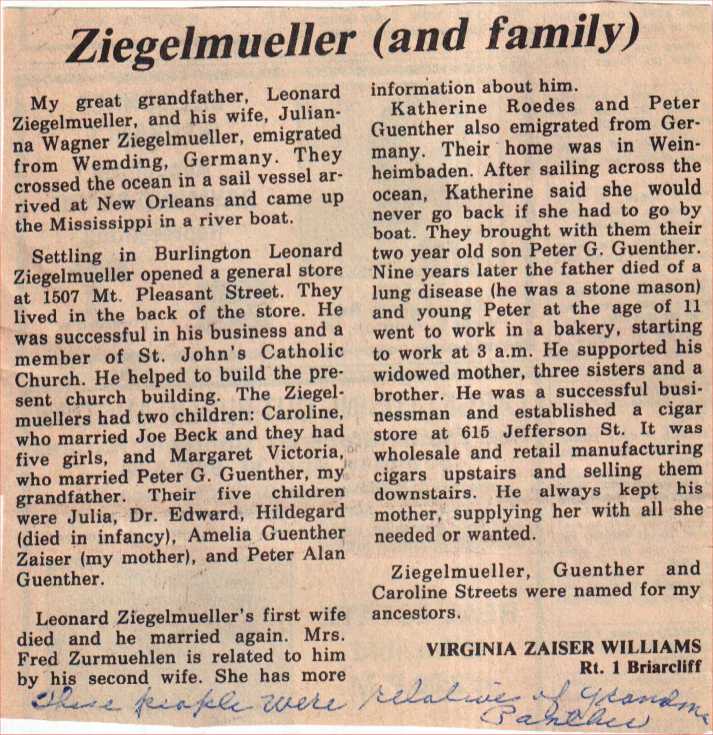 In 2014, I found the 1855 New York state census listing "Elizabeth Dunzenger", born in 1854 in New York, living with her parents Andrew and Fanny Dunzenger and a sister Mary A. Dunzenger, Victoria "Seidlenar", listed as mother, apparently of Andrew, and Jacob Pacoke, brother, brother of Andrew, at least in the way the census is worded.

I paid a researcher to look at Wemding church records, now held in nearby Eichstätt. He found the family of Andrew/Andreas Dunzinger in and around Wemding.

I was contacted by a descendant of Charles Wagner and after a while of exchanging emails with genealogical information, I requested that she take a DNA test to confirm we were related. I expect that we would be about fourth cousins. The results showed no relation between us.

We still had no information about my great-grandmother's mother except that her name was Fanny. I looked and I looked and could find nothing about her or her marriage to Andrew. Until finally, in August 2019, I decided to research the church around the corner from where the family lived. St. John the Baptist Roman Catholic Church was just around the corner from where they lived and served the German immigrant community. I looked up the history of this church and discovered that there was a fire in 1847 which burned it to the ground. From 1847 until 1851, the Church of the Nativity served the congregation. I did a search for Church of the Nativity and found that FindMyPast has this church included in their Catholic Church records collection. I signed up for a 14 day free trial and did a search. The very first record that came back was their marriage record, but it was in St. Nicholas Parish, not the Church of the Nativity. It listed Andrew's parents as we discovered in Wemding and it listed his bride as Anna Ziegelmilch.

Looking at the newspaper article above, Ziegelmilch is close enough for me to Ziegelmueller to know that Ziegelmueller was her correct surname and Elizabeth's mother was the connection to the families listed in the article. It listed her parents as Dauli Ziegelmilch and Victoria Siefrie. Siefrie is pretty close, at least in handwritten appearance, to Seidlenar, so I'm confident I know who the Victoria listed in the 1855 New York state census was.

Then I went back and reviewed the emails I had exchanged with the Wagner descendant and with the researcher in Wemding. I found that the Wagner relation requested that I ask the researcher to see if he could find the marriage record of the Ziegelmueller family, Leonard and Juliana Wagner Ziegelmueller. He found that Leonard's parents were Paul Ziegelmueller and Victoria Seefried.

VICTORY!

So here is the story discovered so far: Andreas/Andrew Dunzinger and Anna Ziegelmueller come to New York City from Wemding, Bavaria around 1845. I have not documented the date or ship name. In 1847, they marry at St. Nicholas Parish in New York City and have daughters Mary Ann and Elizabeth. They lived with Anna's mother, Victoria Seefried and a brother listed as Jacob Pacoke, who remains unidentified at this time. Some time around 1856, Andrew and Anna die. We do not know the dates or causes. At that point, it is likely that Elizabeth's grandmother, Victoria, brings Elizabeth to Burlington, Iowa, to live with her aunt and uncle, Leonard Ziegelmueller and Julia Wagner Ziegelmueller. At some point, Elizabeth needs a job and Charles Wagner needs help in his boarding house so Leonard sends his niece to work for his brother-in-law and we find her living there at the age of seventeen in 1870.

While there are still details to uncover, such as the death of her parents and the identity of Jacob Pacoke, the overall story makes sense. While it doesn't line up with what we believed, that the Wagners were related to the Dunzingers, it lines up with the logic of the story passed down in the family. We just didn't understand it when we heard it. We do now!

--Matt